What's so special about Specialty Windows? In our book all windows are special, especially when it comes to covering them. They give us our view to the world and we absolutely love the architectural integrity and unexpected shapes that add interest to our interiors.
As a window fashion designer, the intrigue is in the covering itself. Maintaining the integrity of the window while fashioning a window covering design is the goal here. One of the questions we are most often asked about specialty windows is: What's available to cover my arched, angled, oval, eyebrow, or upper windows?
Two Questions To Ponder
Before the design begins you must ask yourself these two questions, yes, just two!
Do I want the window completely exposed at times to relish in the architectural features?

Am I okay that the angled or arched portion will be permanently covered?
We'll tackle question one first as it happens to be our favorite and the easiest to accomplish!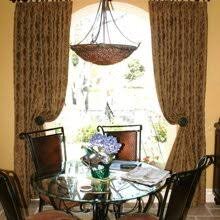 The easiest way to cover a specialty window and keep the integrity of the opening is with draperies.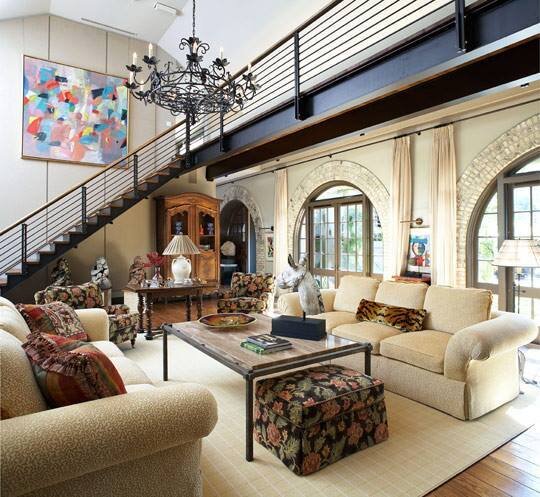 The most important decision in covering the specialty window is the placement of the drapery hardware. As shown here, the hardware is placed at the upper-most point that it can be - ceiling height is desired! This will allow the opening to be fully-exposed clearing the arch, and allowing drapes to be drawn completely off the opening.
Of course, all specialty window applications are considered to be custom. Did you know that you have the option of customizing the drapery rods to follow the arch or angle of your window? You do! A window covering professional will template the space to ensure a perfect fit for the hardware and the cascading drapery lengths. See how this application actually enhances our specialty windows!
Let's Talk About Enhancing Your Specialty Window
Even as an expert in window coverings, the thought of covering up the beauty of the window trim, the moldings….causes me to shutter! Which takes us to solution #2 for question #1.
S H U T T E R S
Custom wood plantation shutters are a beautiful solution for specialty windows which can be made to fit any window. Shutters are considered a furnishing and are known to be the only window covering that is included in the home's appraisal. Crafted to enhance the opening, the finish options are endless with choices in custom moldings, paint and stain colors.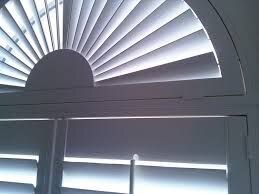 Specialty windows with a perfect arch opening are built for custom elliptical arch shutters. These shutters transform your interior, adding interest and allowing you to control the light with louvers that move.
Our customer was blinded by the light coming through her entryway windows. We went through several solutions of window coverings and lighted upon custom shutters. The result is a statement maker which allows control of the light, a custom stain-match to the door, custom moldings to ensure the integrity of the windows, and an overall appearance that looks as if the shutters were built with the house.
If you answered YES to Question #2,
the following solutions are for you
Notably, specialty windows can be covered with any type of window covering - any type! Consider this: If you want matching shades throughout your home, a specialty window covering can be made to accommodate your wishes.
Honeycomb Shades
Our most popular selling shade is the honeycomb shade which is a perfect solution for specialty shaped windows and skylights. The shades can be raised in angle-top or arch-top windows just to the point where the shape begins, or the straight-edge stops, and can be made to fit any opening as a fixed, non-operational shade.
Hunter Douglas premiered their new TrackGlide system to keep shades in place for windows that tilt and turn. Great for Skylight shades too! At this time this feature is available with Duette honeycomb shades only.
Did we mention that any type of shade can be made to fit a specialty window?
Upper Windows Are Special Too
Savings on Specialty Window Coverings Do Happen
If you're good at puzzles - round hole, square peg type of thing, then you may want to jump in and start designing. For the rest of us, the best way to proceed is with a Window Covering Professional. At Knight's we are well-versed in the art of specialty window coverings.
We thank you for your time in reading through this Blog post and if you have any questions on topic that we haven't covered, please post in our comment section or give us a call to schedule a complimentary consultation (805) 237-1400.
We're happy to be of service!
Sheryl and Gordon Knight, owners