Many celebrate the coming of the New Year with great celebration on New Year's Eve, but for us our New Year begins in the Spring when our industry unveils the latest innovations in coverings. This year is exceptional as we traveled far and wide in search of the best quality in coverings to represent and sample in our showroom. Las Vegas brought us floor coverings, Nashville brought us the beauty of fabric window treatments that we've included in this Blog, and the Hunter Douglas Premieres showcased their window coverings in a whole new light, a Celebration of Light that we are delighted to share with you.
I am one proud Grandma to have my new assistant, Libby, accompany me through the trials of motorization (more on that later). Pictured here with our awesome Hunter Douglas Rep, Toni Huggins.
ON WITH THE HUNTER DOUGLAS PREMIERE!
Duette Honeycomb Shades
The latest upgrade for Duette Honeycomb shades will keep your shades in place as you tilt & turn your windows or open your doors. There's also a new channel to block the light. Learn More.
You'll now be able to elevate the control of your shutters with PowerView motorization in three new ways! 1. On shutters with a divider-rail or split-tilt, each louver section is able to operate individually within the panel. 2. Exclusive override feature allows manual louver operation without engaging the motor and 3. You can now operate multiple louver sections horizontally across panels with a single motor for a cost-efficient design.
A little background: Skyline Gliding Panels are a vertical application offering a sleek contemporary look in your panel width choice of 11-1/2" or 17" that can be operated with PowerView motorization or wand control. What's new? The fabric choices are now coordinated with multiple products designed to streamline your windows with Designer Roller Shades and Designer Screen Shades for a Whole House Solution.
What can WHOLE HOUSE SOLUTIONS do for you? The Whole House Solution helps you coordinate products for windows requiring both vertical and horizontal applications in the same room.
Provenance Woven Wood shades offer Mono and Duo-color liners. Mono linings add color to both street side and room side. Duo-color gives a neutral off-white to the street side and color to the room side. Available in room darkening and light filtering opacities. Liners offered are available as "attached" only and do not operate independently from the shade.
Warning: Proud Grandma Moment Ahead!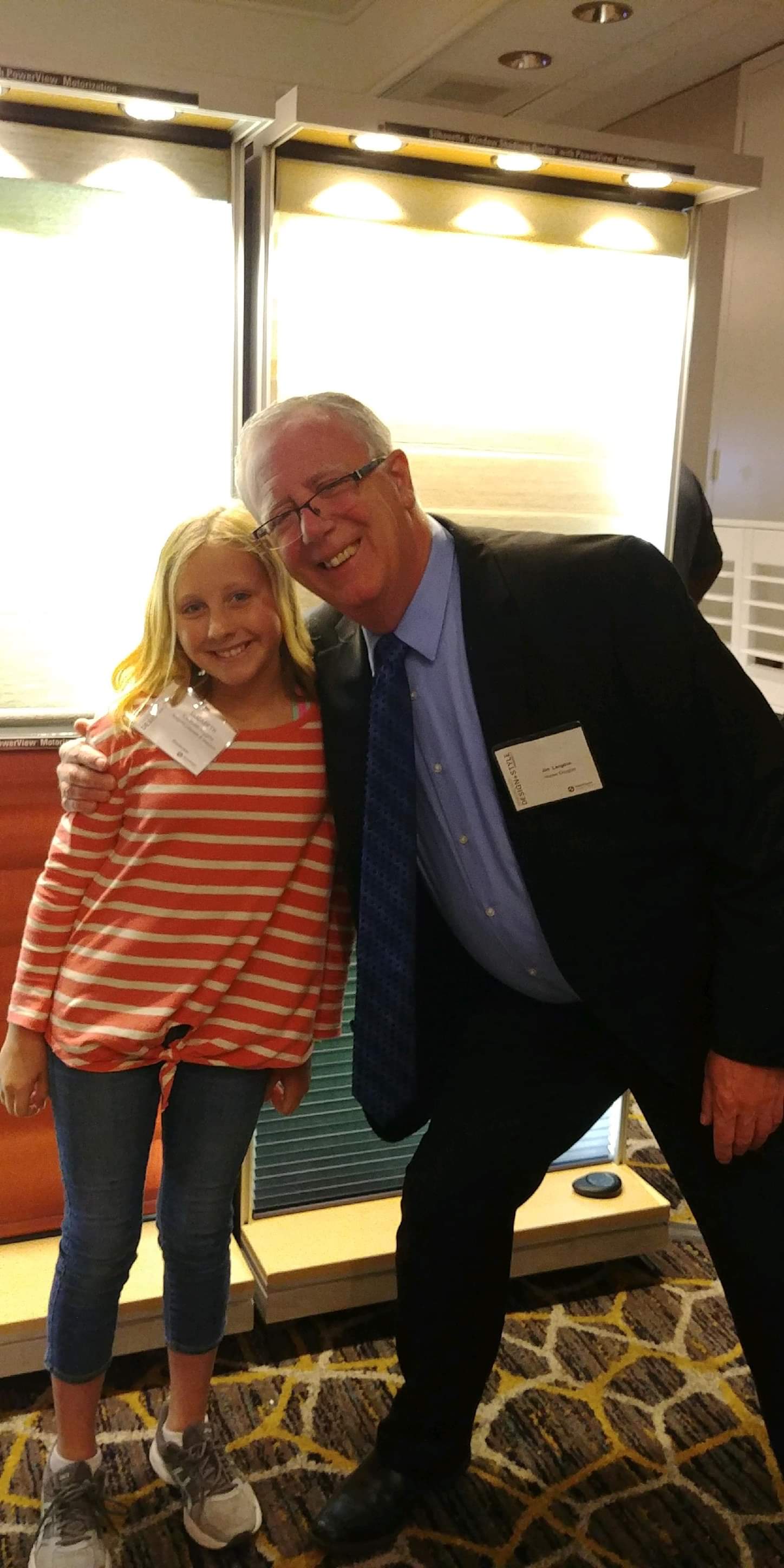 "Could I just go through this one more time to make sure I've got this?"
My Granddaughter, Libby, makes great success of all the new PowerView Motorization applications, so much so, she's been invited to create a video to show off her skills.
With many thanks to our PowerView Specialist,
Mr. Jim Langdon!
POWERVIEW MOTORIZATION
Smart Home. Smart Living.
Operate your window coverings individually, by room, or throughout the home, on your own schedule using Scenes and Automations.
What's New: Voice Control & Compatible Integration
PowerView motorization is designed to smoothly integrate with other industry-leading technologies to deliver a truly connected home. PowerView motorization now works with the Google Assistant and Amazon Alexa to control your shades with just your voice. Get connected and synchronize your PowerView with Nest, IFTTT, Control4, and more.
Try it before you buy it. Visit our Showroom to see and operate PowerView shades. We have an interactive display station equipped with Ipad, Room Scenes, Automations and the PowerView Remote control too.
RUMOR HAD IT . . .
A couple years back we heard a rumor that Hunter Douglas had purchased Carole Fabrics, and we anticipated the movement into the softer side of window treatments. Finally that rumor has come to fruition with their latest unveiling: THE NEW DESIGN STUDIO LAUNCHES LATE IN 2019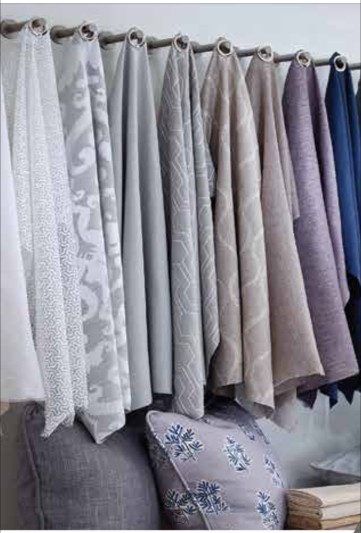 Introducing a collection of fabrics designed to layer with Hunter Douglas Window Coverings for a signature-look in Drapery, Side Panels and Roman Shades.
DECORATIVE DRAPERY HARDWARE
With the New Design Studio a small selection of drapery hardware will be available with the option of PowerView motorization.
NOTABLE MENTIONS
HUNTER DOUGLAS JOINS "ATTACHMENTS ENERGY RATING COUNCIL" (AERC) GIVING CUSTOMERS A THIRD-PARTY VERIFIED, APPLES-TO-APPLES COMPARISON TO ENERGY PERFORMANCE WITHIN THEIR PRODUCTS

PIROUETTE WINDOW SHADES INCREASES SIZE TO ACCOMMODATE LARGER WINDOWS UP TO 96" WIDE X 120"LONG IN SATIN FABRICS WITH 5" VANE AND POWERVIEW MOTORIZATION

DESIGNER BANDED SHADES ARE OFFERING THREE DIFFERENT BAND HEIGHTS AND 23 FABRIC COLLECTIONS

GREENSCREEN Sea-Tex, winner of two innovation awards for Technical Textiles and Special Energy Efficiency, GreenScreen SeaTex is the first sunscreen fabric made from 50% recycled ocean plastic waste. You can find this material selection in Designer Screen Roller Shades.
EVERYWHERE YOU GO, THERE WE ARE
HELLO NASHVILLE!
We are making great strides in bringing the best of the best home to our beautiful Central Coast communities. We are a small, family-owned business that's BIG on quality and researching every covering that is new in our industry to ensure that the quality represented is a good fit for our customers and our showroom. Not a first for us was attending the International Window Covering Exposition (IWCE). This year it was held in Nashville, Tennessee, and that is a first for our dynamic-duo, mother-daughter extraordinaire team of Diane and Marie! Here's their Nashville getaway with a takeaway or two!
We are happy to report that this year's forecast has our attention with color, specifically, pastel and jewel tones. Fabrics are still mixing patterns with geometrics and florals, which leads us to a new throwback… Chinoiserie is HOT!
Marie and I attended conferences for workrooms and window fashion designers alike, including "Mastering Draperies" by Cheryl Meiklejohn. We were truly inspired with the expertise in presentation and have a renewed confidence that we hope will inspire you too! __Diane Curley, Interior Decorator, Knight's Carpets & Interiors
Depicting Asian motifs in a decorative style, Chinoiserie was most popular in the late 1700's. This typically whimsical scenery is trending today in wallpapers, fabrics, painted furnishings and is a lovely backdrop for dining and conversation.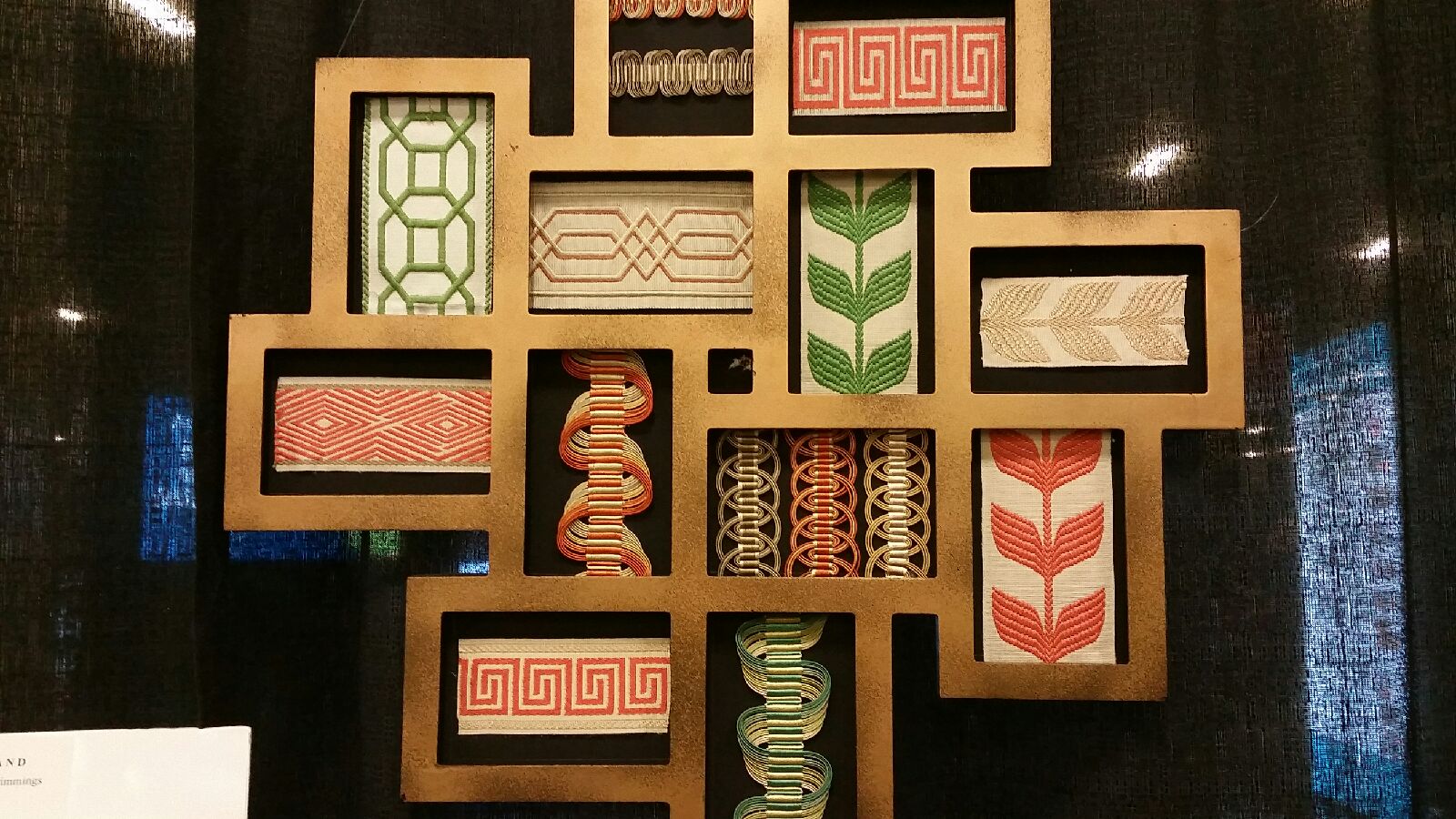 We are so excited about this Trim collection that you can now see it in our Showroom. Drapery banding is HUGE and these extra wide-width trims are the WOW factor.
We're All About The Pleat
Let's talk a little about drapery pleat styles. We were dazzled by the features in all of these pleat styles and titled them with their familiar styles. There is nothing familiar about these pleats when you take them to the next level. Adding trims, elongating the pleats for tall rooms and getting creative puts a personal spin on drapery - not just a drapery, but a drapery design. Be inspired with more pleat styles on our Pinterest board.
In closing . . .
It's not every year that we travel to all of the vendor event showcases, but this year there were so many new happenings in our industry we just couldn't resist! We're so happy that we attended and could share our news first hand with you. What we're working on now is arranging and updating all of the product lines and if you haven't been by the showroom in a while, you must stop by and say Hi!
Happy Decorating!