Flooring Trends for 2019 can be summed up in two fabulously appealing words:
FAMILY-FRIENDLY!
Covering all the latest innovations in carpeting, vinyl plank, hardwood and tile, our own Michael Fletcher delivered the happenings of THE INTERNATIONAL SURFACES EVENT with his opening in our latest sales meeting: "I'm so excited with this year's new introductions in flooring that I wish I had more time at Surfaces in Las Vegas!"
What Happens In Vegas, Won't Stay In Vegas
It's Coming To Our Showroom!
COREtec unveils the latest in their ever-popular waterproof vinyl plank series with STONE.
18" x 36" large format vinyl tiles replicate marble, limestone, sandstone and concrete looks. Samples to arrive end of March.
Flooring Trend 2019: Patterns, Patterns, Patterns!
And, then, there's Bog Wood!
It happens once in a great while where the new products that are being introduced totally take the sales meeting to another level with a quietness, a questioning look as Michael Fletcher leads our team through the discovery of Bog Wood. If you're from the Mid-West, or parts thereabout, you've probably heard of Bog Wood, but for the rest of us here's a quick introduction: It's oak that has been buried in a peat bog for hundreds of years. The staining of the wood occurs naturally through organic matter of iron, salts & minerals which react to the tannins in the wood. What does this have to do with our new flooring introductions?
Introducing Hallmark Hardwoods True Collection
The best ideas come in Planks
New collections - Same finishes! From hardwood floors to waterproof vinyl plank the finishes now coordinate. What this means to you? You can select a waterproof vinyl plank for your baths and kitchens and coordinate the finish color to the hardwood floors for the rest of your home.
Coordinate your floors with select styles of Courtier Waterproof flooring and Alta Vista Hardwoods from Hallmark.
The Original 'Water Proof' Floor
Personalizing your home with decorative tiles is a true expression in art. Artistically placed tiles for the backsplash combined with the stunning elements in the floors and the walls will have you smiling every time you walk into the room.
Mohawk Flooring Puts On Quite A Showing Too!
A couple of weeks before Michael Fletcher attended "TISE" in Vegas, I took a little trip south to Huntington Beach where Mohawk Flooring unveiled their newest releases for 2019.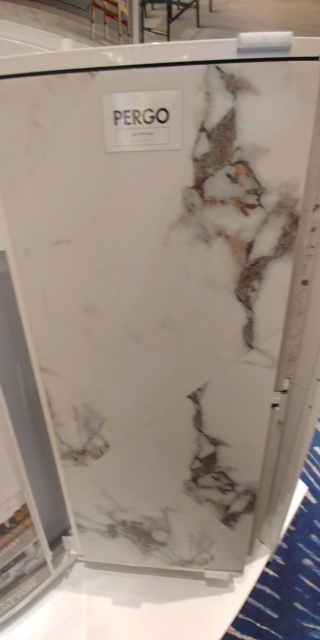 Yes, Pergo! Recently acquired by Mohawk Industries, we are excited to announce that the newest collections of Pergo will be exclusive to our North County Showroom featuring waterproof plank and tiles in stone and wood-looks.
The Softer Side is Luxury in Silks, Wools & Blends
What Makes Floors Family-Friendly?
You'll be seeing the words "Family-Friendly" a lot in flooring, and for that matter, fabrics too (more on fabrics later) It's a true revolution in the flooring industry that has us all abuzz with what this means for our customers! Evolving over the years floors - hard surface and carpets - stand up to life's happenings and are worry-free, easy-to-clean, durable, dent-proof, oops-proof, pet-protected, waterproof and comply to strict indoor air-quality standards.
It's like they were reading our minds!
H I G H L I G H T S
Waterproof floors are reconstructed with limestone composite core

Flooring industry focus is family friendly & pet friendly

Patterns in flooring prove longevity in trend

Radiant Heat Flooring is now offered by Knight's Carpets & Interiors
We'll be back with you all in about a month with all the news from Nashville!