One of the questions we are often asked is: "What window coverings work best on sliding patio doors?" In this instance we are obliged to answer this question with a question, as window coverings have evolved over the years since the original two options of verticals and draperies. Today there are so many inviting ways to cover your sliding doors we are compelled to question your question with: "What do you prefer?"
There Must Be 50 Ways To Love Your Louvers
An original in covering sliding patio doors are Verticals and they just keep transforming into something new as you'll see - Next!
Pros: PVC verticals are easy-to-clean, easier-to-operate, and great for larger windows. A great choice for modern interiors.
Cons: We are frequently asked: "What do you have besides Verticals?" Leading us to believe there is a significant love/hate relationship with Vertical Blinds.
3. Luminette Privacy Sheers
4. Skyline Gliding Panels
Pros: 600+ fabric choices that coordinate seamlessly with designer roller and sunscreen shades. Sleek, modern and makes for a unique room divider.
Cons: Requires 18+ inches to stack completely off window. Consideration to be taken at time of measure as some fabrics may stretch.
We're Still Vertical . . .
Vertiglide Honeycomb Shades
6. Energy-efficient shades that slide across the window
The Hunter Douglas DuoLite option features two shades in one application. Select a sheer fabric to slide one-way and a light-filtering or room darkening fabric for the other. Now, slide the sheer vertiglide open a little or slide across to expose the entire window, then slide the room-darkening side for more light control. Add motorization and we're doing the Electric Slide! Coordinate with standard windows as shown in the photo for whole house solutions.
Pros: Lots of options!
If you haven't seen your style yet, there's more to come with #12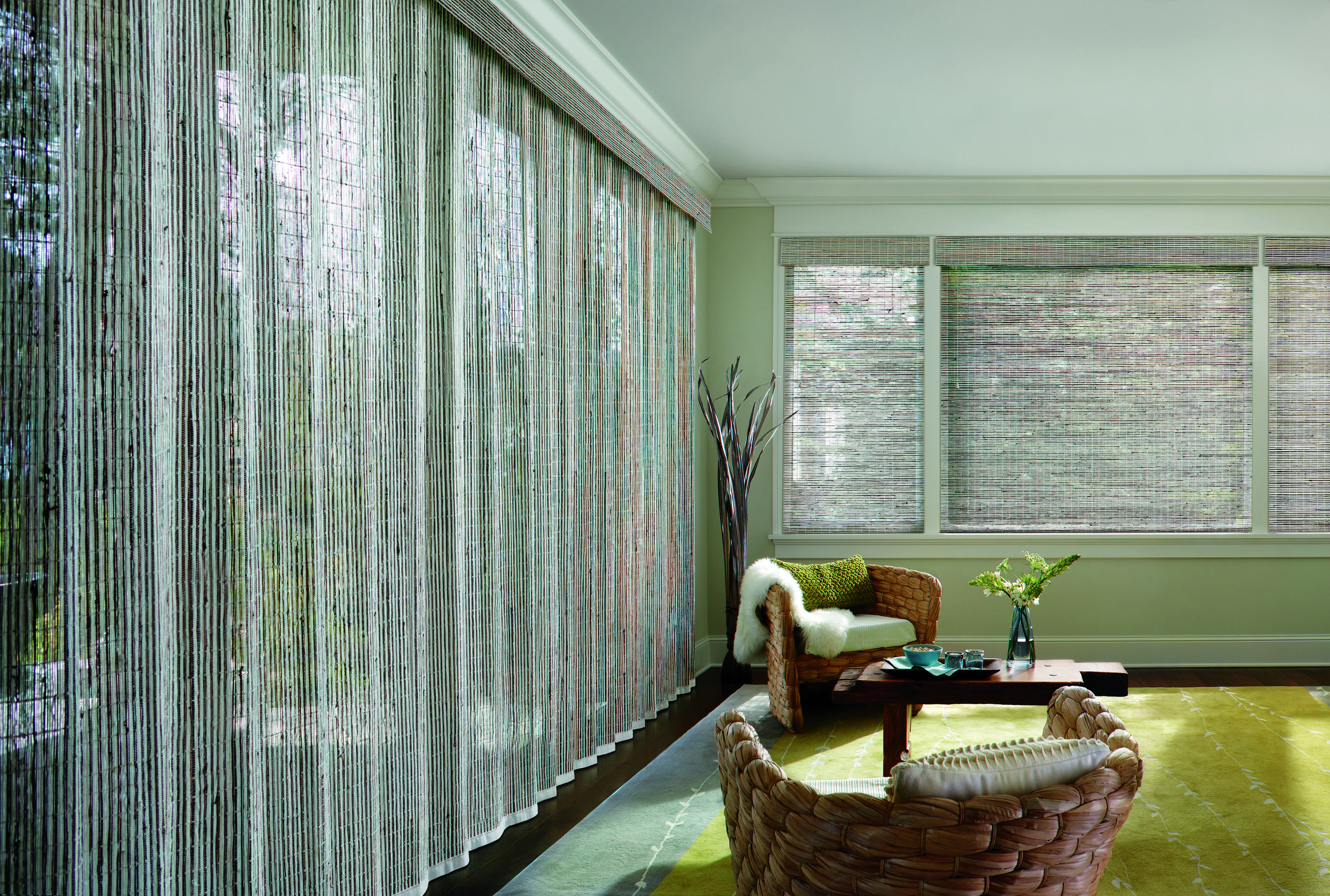 Woven Woods
The 'Other' Drapery
Casual elegance encompasses the room in textures with Woven Woods vertical applications
Photo: Hunter Douglas Provenance Woven Wood Shades
"The 'other' drapery" is unique as woven wood materials are a type of material that is notably suited for designing drapery, roman-style shades, valances, cornice boxes, placemats, table runners, standing screens, and more. Pros: Woven wood draperies easily slide on a track or on a decorative rod. There are hundreds of styles to choose from along with street side color selections and opacity levels for lining. Cons: Linings are always attached in vertical applications and we would like the option of a separate liner (hint, hint) but you can always go custom if need be. Some styles are limited in widths and lengths.
Horizontal Window Coverings For Sliding Glass Doors?
Yes, Please!
Virtually, any horizontal window covering can be designed to fit your sliding glass door.
Here are a few of our favorites.
We're going with Lucky when you make the following considerations for woven wood shades that we've listed below.
Woven Wood Shades that raise and lower over sliding doors are a great selection for smaller openings offering an application for when you don't have an area on the side for stacking. Three things to consider: 1. Be sure to have shades banded on all sides so they won't fray. 2. Go big on valance styles. When the shades are raised they create a hobble-style valance all on their own, when selecting two shades for one opening you'll want a valance covering to accommodate both shades - think cornice box made out of the same material. 3. Woven Wood Shades at this size can get heavy, choose control options wisely. If you love this look and want it on the lighter side, look to Alustra Woven Textures - up next!
We mentioned the lighter side and here they are. Choose from soft folds as shown or streamline your look with designer roller shades. All have different style choices for coordinating valances or design your own with our incredible fabrics library.
Did we mention "Stack"? That available space on either side of the door opening to accommodate window coverings that just happens to be our number one reason for going horizontal.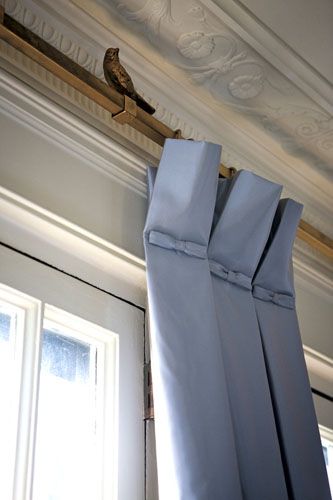 #16 Decorative Drapery Side Panels
When you want to add your personal touch, frame the window with stylish drapery hardware and decorative drapery side panels.
Photo Credit: House Beautiful
Pirouette Window Shadings feature softly contoured fabric vanes that open and close on a sheer backing providing your desired degree of light filtration. Pros: We absolutely love Pirouettes for their style and ease of operation. Cons: A vertical Pirouette has not been invented - yet!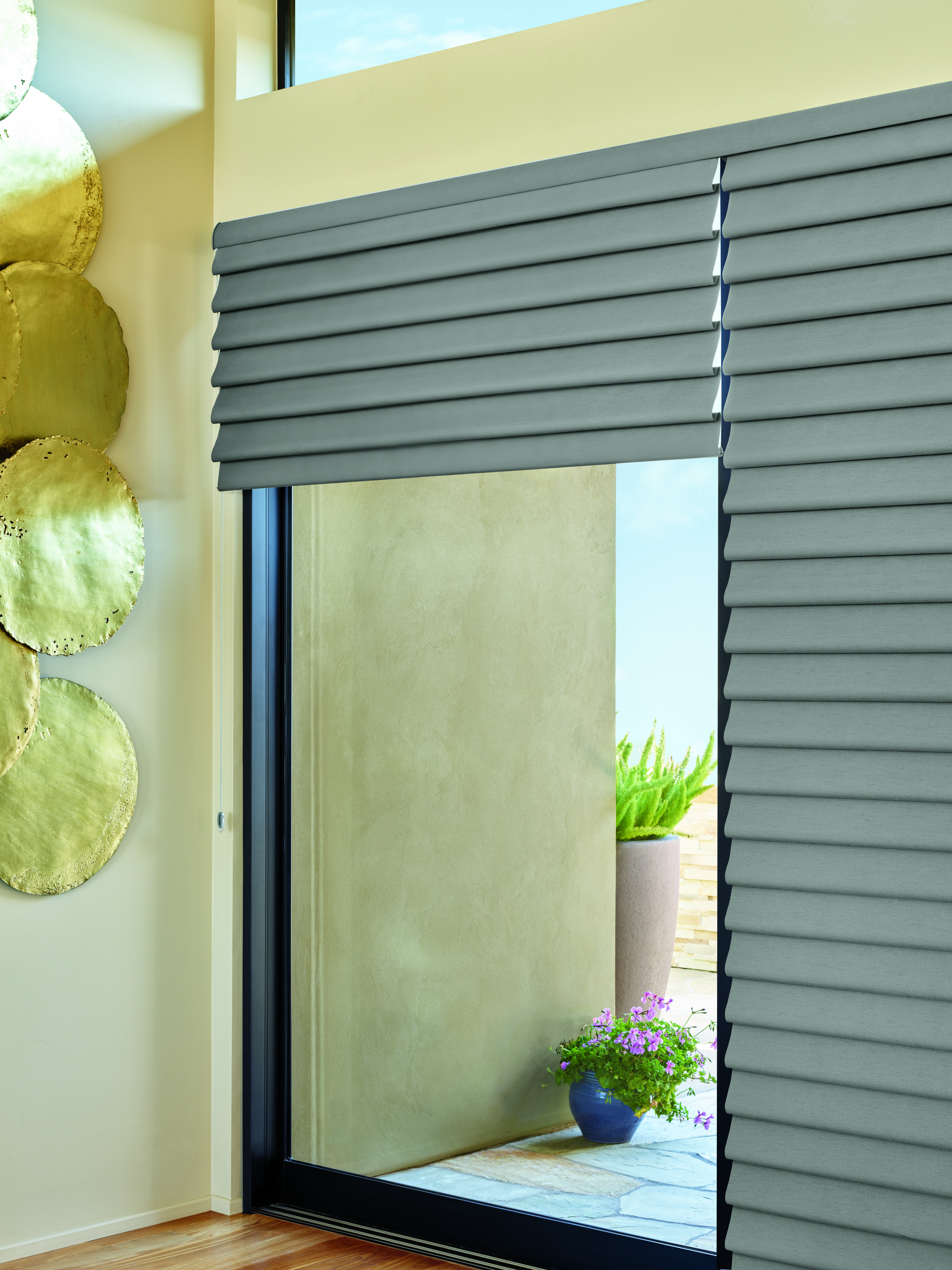 Uniform contoured or flat-fabric folds with no exposed rear cords align over our sliding glass door. Now available with the Duo-Lite feature.
Pros: When you want a roman shade for a patio door, do consider Modern Roman Shades. Fabric folds are lighter and align easier for two-on-one applications.
Cons: Modern Roman Shades do not provide all of the fabric selections and styles that a Custom Roman Shade will provide.
Option: Bring the two together for one fabulous look. Create a custom hobbled-style valance in any fabric of your choosing to go over your Modern Roman Shades. Voila!
A classic window covering that can be designed to slide with the opening, or bi-fold across.
Did We Save The Best For Last?
What we love about this space are the possibilities of further treating these beautiful windows! Layering window treatments is truly our first love and specialty. Not only for the scene-stealing beauty it brings to any space, but having the ability to further complement the interior. Picture, if you will, an added layer at the window that provides a diffused view-through on sunnier days when the drapes are open. Choose from any of our featured window covering solutions, or.... Do you have something else in mind?
Thank you for joining us!
We made it through to twenty ways, knowing all along that there really are over "50 Ways To Love Your Louvers!" Asking questions is the best way to decide on what will work best for your own window coverings. Our Window Covering Professionals are here to assist you on your journey through the world of window coverings.
For The Ultimate In Window Covering Fashion & Design Knight's Carpets & Interiors