Putting the spotlight on just one of our carpet vendors, may have you asking: "Why Karastan?" It's the history of Karastan Carpet and Rugs and celebrating their 90 year anniversary that has us showcasing their time, experience, long lasting artistry and the innovation in the industry that put Karastan years ahead of the competition.
A little history: Industrialist and retailer, Marshall Field simulated the hand-woven Oriental Rug which would revolutionize the carpet industry by creating a machine-made rug that featured all of the intricate designs and unlimited color variety of a hand-woven rug. This was the birth of Karastan's first rug mill established in 1926 and then in 1928 the machine-made rug was introduced to the public, with such an overwhelming response it was dubbed "The Wonder Rug". There's many more Karastan firsts and we encourage you to visit this timeline to learn more: https://www.karastan.com/celebrating-90-years.aspx
As a carpet aficionado I have always appreciated the quality that the Karastan family of carpets represents, but bringing it to our own showroom some twenty years ago was something I do remember being exciting about - and for that matter, all of us were like kids in a candy store oooooh-ing and aaaaaw-ing as each new pattern was introduced. Wools, wool blends, and the luxurious Kashmere are all a part of our every day work day now and we continue to be impressed.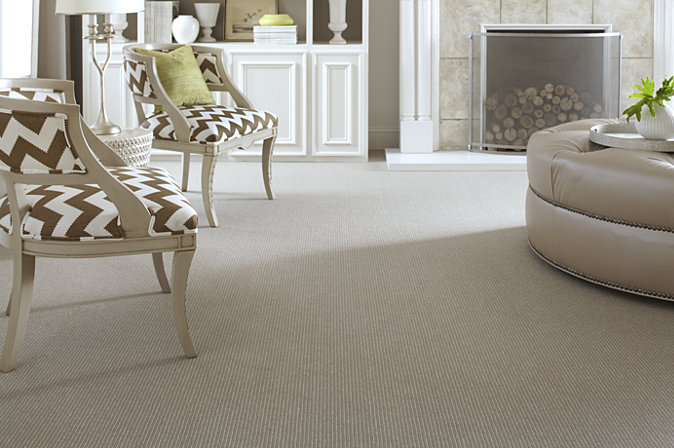 From the farm to the floor, wool carpets are inherently sustainable, naturally soft, yet durable and bring a natural layer of texture.
"Worstead Weave" as featured in our photo, is a Karaloc woven loop. Karaloc is the method in which a fiber is woven and is another first for the industry developed by Karastan in 1948.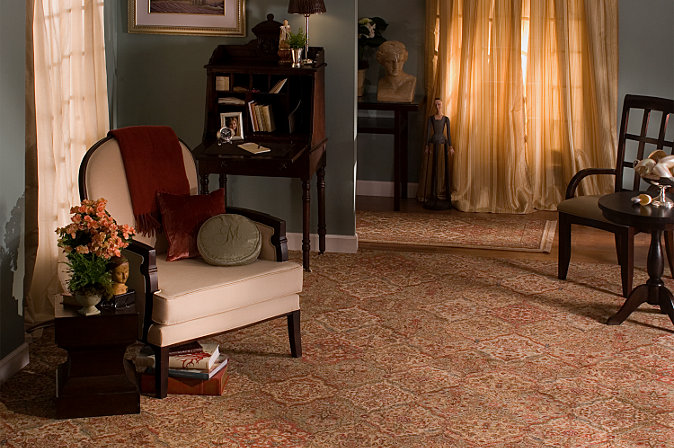 Oriental stylings as a wall-to-wall installation? Yes, please! One of the many attributes of this look is having one room with a wall-to-wall installation, a customized area rug to coordinate for the adjoining hallway or...or...or... You can also take it to the stairs for an endless runner.
Imagine a carpet that feels as soft as cashmere! Kashmere is exclusive to and created by Karastan in today's popular colors and patterns. I have to admit I cannot walk by these samples without my hand luxuriating in the softness of this carpet.
"The best carpet ever invented - again!" SmartStrand Forever Clean carpet is the first new carpet fiber to be introduced in over 50 years and the only carpet with life-time stain resistance built into the fiber. First introduced in 2005 it quickly became Knight's number one selling brand.
This much we know is true: There is nothing as beautiful as well-designed floors and the combination of hardwoods and area rugs just happen to be our most popular sellers. The area rug serves as a welcome to defining spaces. What we've seen these past couple of years is the trend going towards a custom-fit. By selecting a wall-to-wall (aka broadloom) carpet and having it bound to your specific size for a custom area rug, the possibilities of style, pattern, shape and sizes are limitless.
Read on for more information on designing a custom area rug.
To 'Live Beautifully' is the Karastan way and we are proud to be a part of their vision. When shopping for carpeting, knowledge of the product, the fibers, and how the carpet is made are all a part of our vision for you. At Knight's selecting and representing the best in quality is a team effort, from the sale to the installation you'll Live Beautifully for years to come.
What can we help you with?