One thing we know is true: If it works to insulate and keep you warm during winter, it will also work to keep you cool in Summer. Insulation is the key and we're not talking about what's between the walls, nah, come on.... This is Knight's! We're staying cool with insulating products that are added after the home is built and beautifying as we go.
80-Percent? Wow! We agree that is a pretty big number. Hunter Douglas developed this shade just to out-do what they previously had done with the original Duette Honeycomb Shade and that is to create next-generation energy efficiency with their ever popular honeycomb shade.
How do they do it? Read our previous blog on the Energy-Efficient Home
Back to the 80% . . .
Okay, you're excited about the 80%, but not too excited about the honeycomb shades. You picture Summer as a sheer gently blowing with the breeze, a good book, let's throw in a tropical drink with an umbrella. Are you cool yet? The Sheers of Summer can be had with a little technique we fondly refer to as "Layering".
This beautiful Sheer by Gianti Fabrics is just the beginning to our Summer Scene.
We've narrowed it down to three choices
You may have noticed that our three choices do include a honeycomb shade - that's to keep with our 80-percent. It will be hidden when raised, installed neatly behind the sheer and when it's lowered you'll have the "cool" effects. Your second choice for giving a layer of insulation to our dreamy sheer window is the roller shade and number three, a customer favorite, is the Pirouette Window Shade. The best part of this Summery Sheer Window Scene is the variety of looks on one window: Fully open, shade raised and Sheers drawn open to frame the window, and there's the fully closed shade and sheer both closed to "Stay Cool", then we'll raise the Shade and close the Sheers, ahhhh, how about this one? Lower the shade from the top (top-down/bottom-up application) and close the Sheers. So many options and we do love options!
What's your favorite?
Must Have More Sheers
We've turned the tables on our Sheery Summer Scene, or in this case turned the windows, by having the sheer treatment as an inside mount. The drapery portion is what keeps us cool! Select from thermal or black-out linings for the drapery for the highest insulation value - Is that 80%? Yes, yes it is! It's also our #3 Summertime Favorite.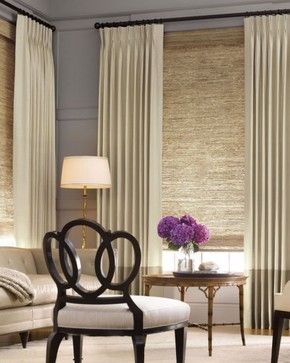 Add sheery elements of texture and light for stunning effects. The drapery does the work of insulating. It's all in the layering.
Stay Cool With Tones Of Blue
Accessories are everything. Accessorize your walls with tones of blue they'll give you that cool-down feeling you long for, which, just happens to be our #4 Summertime Favorite.
A Great Segue, We're Off To The Patio
We've all done it, spent our mornings cleaning and preparing the patio for company only to realize a little too late, it's just too hot to step outside. Here's our Summertime Favorites #5 to Stay Cool.
Keep those bare feet cool with area rugs (shown here Recife Saddle Stitch by Couristan)
Complement with fabrics made for the outdoors with custom seat cushions, table runners, and draperies- there's trims & tassels too. These specialty outdoor fabrics are fade and stain resistant and look beautiful too.
Need more inspiration for your outdoor space? Visit our Showroom or see our Pinterest Boards
Now About Our Favorites ...
We love what we do and that's due in fact to the quality of products we work with on a daily basis that we've featured as our "Summertime Favorites". Like what you see, the ideas to stay cool? Contact us! We're happy to be of service and provide complimentary consultations on "Staying Cool".
It's Sum...sum...summertime with knight's
thanks for joining in!